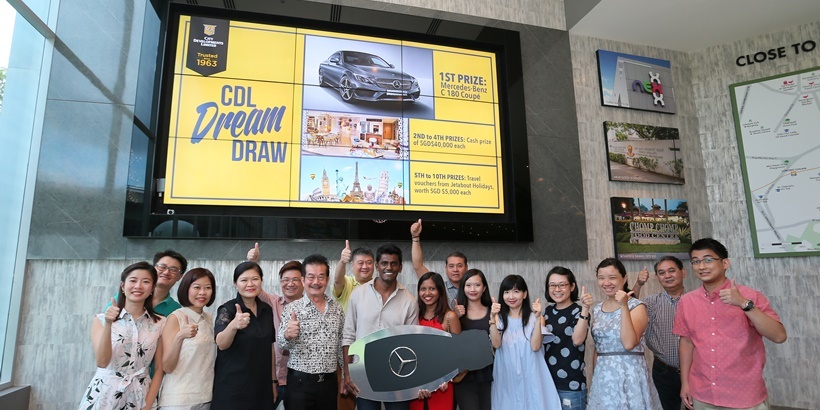 CDL Group General Manager Chia Ngiang Hong (front row, fourth from left) together with winners of the CDL Dream Draw.
Some 10 lucky home buyers walked away with prizes ranging from a luxury car to cash prizes and travel vouchers, after participating in a lucky draw organised by property developer City Developments Limited (CDL).
The CDL Dream Draw campaign, which ran over a four-month period from 3 September 2016 to 1 January 2017, was open to the first 100 buyers of four CDL projects  – Coco Palms, D'Nest, Echelon and The Venue Residences and Shoppes.
The winners received their prizes on Saturday (15 April) at a ceremony held at CDL's Forest Woods showflat beside NEX shopping mall.
For 35-year-old Singaporean Ms Fernando, her purchase of a three-bedroom suite at The Venue Residences and Shoppes near Potong Pasir MRT station helped her nab the top prize of a brand new Mercedes-Benz C 180 Coupe.
Her fiancé, Mr Sanjeev, received the car keys on her behalf from CDL Group General Manager, Chia Ngiang Hong.
"This is a great start for our future," said Sanjeev, a 31-year-old airline pilot. "Never in our wildest dreams did we think we would win a car, especially a Mercedes-Benz. This is our first car and also our first home."
The couple plan to get married at the end of this year and move in after the project's completion. They declined to reveal the unit's purchase price.
Meanwhile, the second to fourth prize winners each walked away with $40,000 in cash. Fourth prize winner Cephas Chang called it "a pleasant surprise".
"The biggest prize I had won in a lucky draw was nothing better than a water mug," said the 42-year-old who works in a bank.
Chang, who bought a four-bedroom unit at D'Nest in Pasir Ris late last year for about $1.29 million, said he plans to use the money to defray the renovation cost of his new home.
As for the remaining prize winners, they received travel vouchers from Jetabout Holidays, worth $5,000 each.
Currently, D'Nest is fully sold, while selected units are still available at the other three projects.
credits: propertyguru