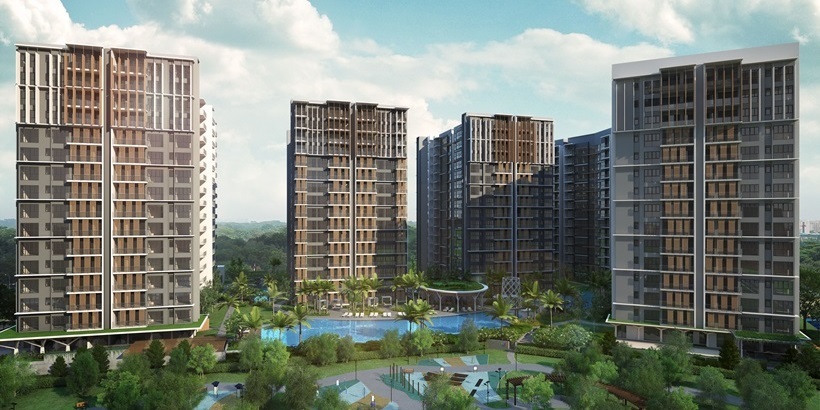 Artist's impression of Parc Life EC in Sembawang.
Frasers Centrepoint Limited (FCL) saw its net profit for the third quarter ended 30 June 2016 drop 15.1 percent to S$154 million, while revenue fell 32.5 percent to S$682.1 million.
The group attributed the declines to lower contributions from its development portfolio in Singapore, Australia and China. They were, however, partially mitigated by the recognition of profits from the Twin Fountains executive condominium (EC) project following its completion, new income streams from the acquisition of a British-based hotel chain in 2015, as well as the group's share of profits from an associate in Thailand.
"This quarter's results continued to attest to the importance of FCL's drive to achieve sustainable earnings by growing income from recurring as well as overseas sources," said FCL Group CEO Lim Ee Seng.
"Amid the tapering off of contributions from Singapore development projects, coupled with timing differences in completions of overseas projects, the role of our recurring income base in providing stability and mitigating the impact of lumpy completion timelines has been clearly demonstrated," he added.
On a nine-month basis, FCL posted a 26.5 percent drop in net profit to S$375.9 million, while revenue slid 10.8 percent to S$2.251 billion.
Looking ahead, the group revealed that Singapore will continue to be its home market even as the residential market here continues to face headwinds.
The group recently launched Parc Life EC in April, and is working towards the launch of a private condominium project at Siglap Road in 2017.
In China, FCL's residential developments continue to be well-received, with 97 percent and 47 percent of the 575 and 278 units launched in FY2015/2016 at Gemdale Megacity's Phase 3B and 3A, respectively, sold.
Meanwhile, the group's residential business in Australia sold 2,090 of the 2,575 units released for sale during the nine-month period to 30 June. FCL plans to release a further 1,175 units across the country in the final quarter of FY2015/2016.
credits: propertyguru