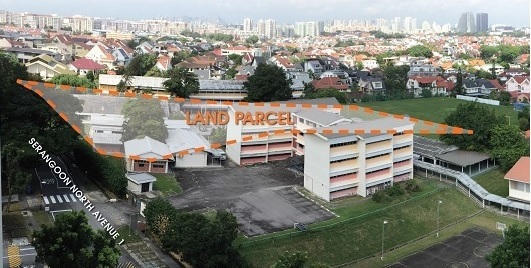 Location of the land parcel at Serangoon North Avenue 1. (Photo: URA)
The tender for a residential plot at Serangoon North Avenue 1 closed on Thursday (27 July) after drawing 16 bids, said the Urban Redevelopment Authority (URA).
Corson and Wingjoy Investment, entities of Keppel Land and Wing Tai, submitted the top bid of $446.28 million for the approximately 185,022 sq ft site. This works out to a land rate of about $965 psf per plot ratio. 
FCL Residences was the second-highest bidder with $418.7 million, followed by a joint offer of $417.2 million from Singland Homes and UOL Venture Investments. 
Launched for sale on 30 May under the first half 2017 Government Land Sales programme, the 99-year leasehold site could yield more than 500 homes.
The Chomp Chomp Food Centre, Serangoon Garden Market and Nex shopping mall are located nearby. The future development will also appeal to families with school-going children as it is close to Rosyth School, Nanyang Junior College and the French School. 
The URA will make a decision on the award of tender after evaluating the bids.
credits: propertyguru