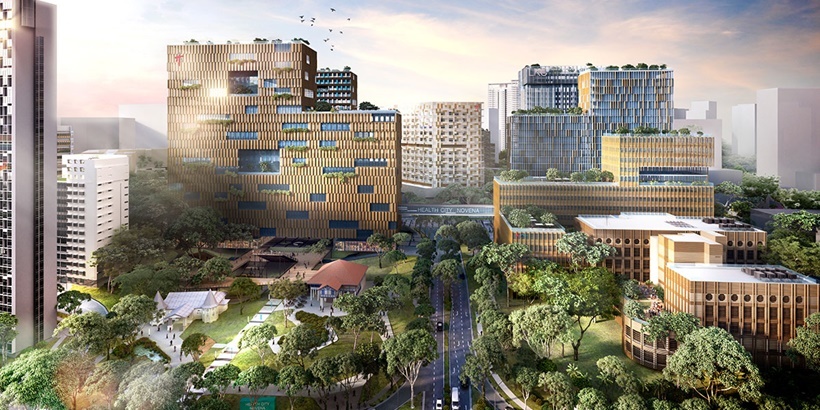 By 2030, Health City Novena will become the biggest healthcare complex in Singapore, linking Tan Tock Seng Hospital with a medical school and other healthcare facilities.
Novena gets its name from a popular Catholic church built in the vicinity more than 65 years ago. In recent years, it has undergone major changes, with new shopping malls, hospitals and residential developments catering to a growing number of locals and expats who have made the neighbourhood their home.
By Joanne Poh
Despite the modern appearance of the Novena neighbourhood, the area's name is actually religious in origin.
Novena was named after the Church of Saint Alphonsus, one of the area's most distinctive landmarks, popularly known as Novena Church.
The church premises, which was formerly the property of Wee Kah Kiat, a rich Chinese businessman, was acquired in 1948 by Redemptorist priests who, having made the journey from Australia to Singapore in 1935, then oversaw the construction of the Catholic church in 1950.
In fact, the word "novena" refers to a type of Catholic devotional prayer, which is repeated over a period of nine days or weeks, in private or in public.
Meanwhile, Balestier Road, a major thoroughfare in the Novena area linking Serangoon Road to Thomson Road, was named after Joseph Balestier.
Balestier was the first American consul of the British colony, a wealthy man who owned a massive sugar plantation named Balestier Plain, situated where the present-day Balestier Road now stands.
The Novena of today retains hints of its colourful past despite having been reinvented to become one of the nation's best neighbourhoods.
The neighbourhood that's got everything
Over the years, Novena has undergone significant development to become one of Singapore's most sophisticated neighbourhoods.
Edmund Ee, a property agent with PropNex Realty, said: "District 11 is one of the prime districts in Singapore. There is a medical hub, demand from investors, and good schools like St. Joseph's Institution Junior. There is also local demand from parents who want to send their children to good schools there."
Residential property in the Novena area is extremely sought-after due to its proximity to the Central Business District (CBD). It has also become an extremely popular area for expatriates seeking rental property due to its location and amenities, making it an excellent choice for those wishing to invest in a buy-to-let property.
The vast majority of homes in Novena are landed houses or condominiums, although there are some HDB blocks in certain spots, such as Moulmein Road and Balestier Road.
Novena is not short of landmarks, which makes it one of the most distinctive neighbourhoods in Singapore.
Other than the storied Novena Church, with its very visible location on Thomson Road, the area has drawn visitors from all over Singapore, thanks to the cluster of shopping malls in the vicinity of Novena MRT station.
Velocity @ Novena Square, formerly known as Novena Square Shopping Mall, was rebranded ten years ago and transformed into a sports-themed mall with an outdoor basketball court by the entrance. Free workouts are frequently organised on-site, and tenants include the Adidas Factory Outlet, Reebok Fit Hub, Royal Sporting House and World of Sports.
Just next door is Square 2, dedicated to the more conventional pursuits of shopping and dining. The mall boasts a Korean-themed cluster of tenants for those who've been swept up by the Korean craze.
Further down Thomson Road, United Square Shopping Mall is another long-time shopping centre that is now in its current incarnation as a hub for child-and-maternity products and services. The mall is equipped with a nursing room, reading room and play facilities, in addition to a range of retail shops which include GapKids, Petit Bateau and Toys "R" Us.
For those who wish to escape air-conditioned malls for a more authentic local experience, Balestier Road has a reputation for being home to some of Singapore's oldest and most famous eateries, attracting foodies from all over the island. Firm favourites include revered chicken rice sellers Boon Tong Kee and the inimitable 333 Bak Kut Teh.
Lee Shi Yan, a 31-year-old lawyer who grew up in Novena, enjoys the area immensely due to its variety of lifestyle options.
"There is access to good food along Balestier Road, perfect for a midnight supper run," he said. "The cinema is close by at Balestier Plaza, and there is a good cluster of shopping centres, including Square 2, Velocity and United Square. Orchard Road is also not far away."
His favourite spots in the area include La Ristrettos, a cosy cafe on the eighth floor of Novena Medical Centre with a nice view of the surrounding area, and PigsFly Kitchen & Bar, an unpretentious eatery that serves up beer and a variety of cuisines in a charmingly casual setting.
Despite the array of shopping and dining options in the area, Novena is by no means a concrete jungle. In fact, due to the abundance of low density housing, the area retains a peaceful charm that has been lost in many parts of Singapore, with quiet pockets where residents and visitors can relax.
One such spot is the beautiful Zhongshan Park, with its picnic-worthy grounds, flanked by restaurants and a shopping mall. The Sun Yat Sen Nanyang Memorial Hall, just a stone's throw away, is one of the most important cultural sites in the Balestier Conservation Area, having served as Sun Yat Sen's base for his revolutionary activities in Southeast Asia.
Looking to the future
Novena's enduring popularity looks set to grow even further. Already, the area has benefitted greatly from the opening of the Downtown Line's two new MRT stations (Botanic Gardens and Stevens), which have boosted connectivity to the CBD and Bukit Timah.
While Novena has always been very accessible due to its proximity to Orchard Road and the financial district, the area will be even better connected when the Thomson MRT line and its Mount Pleasant station, as well as the interchange at Stevens, are added by 2021.
Another major initiative that will further boost Novena's attractiveness is the upcoming Health City Novena, slated for completion in 2030.
Said PropNex's Ee: "Novena will have the country's biggest healthcare complex by 2030, an integrated community of healthcare, medical education and translational research providers. All public and volunteer healthcare facilities, plus a medical school, will be linked up to form Health City Novena. More facilities and services will be added to the existing ones, such as Tan Tock Seng Hospital, and the built-up area will be more than doubled from 250,000 sq m to 600,0000 sq m – roughly the size of 85 football fields."
Ee is confident that the entire area will benefit from the development of Health City Novena.
"In the future, there will be a steady pool of good tenant profiles in the medical field renting in the Novena area and spilling over to Newton. Land is scarce, thus we should see more en bloc activities in time to come," he said.
Given its potential, Novena is constantly being watched by investors and prospective home buyers. Some notable residential projects in the area include 6 Derbyshire, 26 Newton and 12 on Shan, a much-awaited freehold condominium development which is expected to receive its Temporary Occupation Permit in 2019.
Due to their convenient location in one of Singapore's most central residential neighbourhoods, these developments look set to be extremely popular with investors.
The residents of Novena have the good fortune of being able to enjoy the best of both worlds – a glitzy modernity that manifests in shopping malls and healthcare facilities on the one hand, and the idyllic, nostalgic charm of the Balestier shophouse stretch, two sides of a Singapore that's caught between the past and the future.
Did you know
– The famous Novena Church is undergoing a facelift. For the past two years, the church has undergone a major refurbishment to transform it into a gothic-style house of worship, reminiscent of European cathedrals, a total change from its previous Swan and Maclaren-designed premises.
– The Novena MRT station is one of the most recognisable stations in the MRT network, thanks to its distinctive bright green tiles.
– The stretch of Balestier Road between Thomson Road and Serangoon Road forms part of the Balestier Conservation Area, and features pre-war historic shophouses and architecture from the 1950s and 1960s.
credits: propertyguru